Shrimp are found throughout the menu from the appetizer section to the main course. While preparing your own seafood meal, you'll need the right size to make each dish come out perfectly. How do you choose? Here, Biloxi Shrimp Co. discusses standard shrimp sizing and what it all means in terms of your recipes.
Shrimp Sizes Explained
While selecting the ideal Gulf shrimp for your recipes, know that the count per pound (peeled) and size label go hand-in-hand. Shrimp are often categorized as "large" or "small", but the count per pound will give you the most accurate representation of how many are actually inside the bag. The list below can help give you an idea of what to look for while making your selection:
U/10: Extra colossal
U/12: Super colossal
U/15: Colossal
16/20: Extra jumbo
21/25: Jumbo
26/30: Extra large
31/35: Large
41/50: Medium
51/60: Small
61/70: Extra small
Based on the list above, 26 to 30 XL shrimp will make up each pound in a bag labeled 26/30. So if you buy a 2-lb. bag labeled 26/30, you can expect the bag will contain 52 to 60 XL shrimp. Colossal shrimp are noted with a "U", which stands for "Under." If you're buying U/15 colossal shrimp, each pound will contain less than 15 shrimp.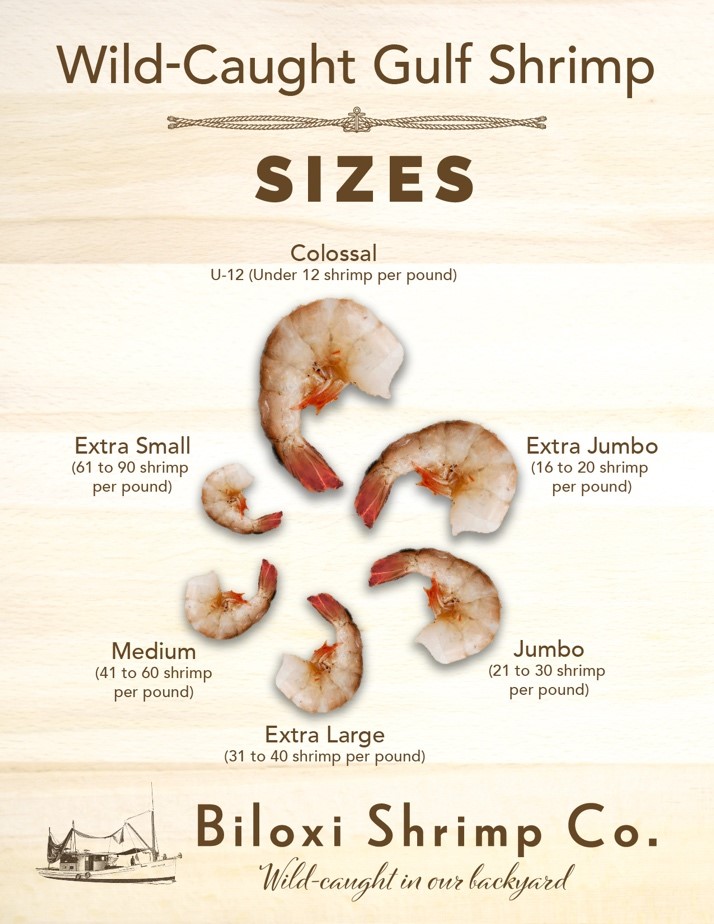 Calculate the Serving Size of Your Meal
Whether you're making a mid-week meal just for you or feeding a crowd during a special event, the serving size can help you gauge how much food you'll need and the nutritional value of your meal. According to the chart on our FAQ page, the serving size for shrimp can be calculated as follows:
Extra small to medium: 16 to 11 shrimp per person
Large to jumbo: 8 to 6 shrimp per person
Extra jumbo and higher: 5 to 2 shrimp per person
Overestimating the number of shrimp you'll need for your course can help ensure you'll have enough food to go around, plus some delicious leftovers to enjoy later.
Finding the Ideal Shrimp Size for Your Recipes
Recipe books typically call out specific shrimp sizes to ensure the prep work goes as planned. While much of this decision stems from personal preference and presentation, it's also based on serving size and how the shrimp will be eaten. Giant shrimp are easy to grill, medium shrimp can be arranged on a dinner plate as the main course, and tiny shrimp are the perfect size to fill sandwiches. Here are some examples of how different types of Gulf white shrimp can be prepared purely based on size:
Colossal shrimp: Baked, stuffed, grilled, shrimp cocktail, skewers
Jumbo shrimp: Salads, sandwiches, coconut shrimp, shrimp cocktail
Large shrimp: Pasta, appetizers, shrimp rolls
Medium shrimp: Stir-fry, fritters, boils, surf n' turf
Small/extra-small shrimp: Stews, seafood pizza, gumbos, shrimp salad, fillings
Unless you're working with a recipe that calls for a specific size, there's really no one right answer. Get creative in your kitchen! The bigger the shrimp, the bigger the bite and flavor will be. The smaller the shrimp, the better each piece will combine with additional ingredients.
Cook with Fresh Gulf Shrimp from Biloxi Shrimp Co.
Make your dish the catch of the day. At Biloxi Shrimp Co., we offer peeled, deveined, and headless shrimp with or without tails to suit your favorite recipes. For more information about shrimp sizing and ordering, contact us today in Biloxi, Mississippi. By the time dinner is served, your guests will be clamoring to know your secret for restaurant-quality shrimp at home.