Happy New Year from Biloxi Shrimp Co.!
A new year means many things — a chance to start fresh, an opportunity to try new things — but for many people, a new year means New Year's resolutions. These goals to improve one's life at the start of the year can be anything from saving money to traveling more, but there's one New Year's resolution that dominates all others: living healthier. According to Statista's 2023 Global Consumer Survey:
52% of applicants wanted to exercise more
40% of applicants wanted to lose weight
And, most importantly for us today: 50% of applicants wanted to eat healthier
That's where Biloxi Shrimp Co. come in!
Our mouthwatering wild-caught Gulf shrimp aren't just delicious, they're also a lot healthier than you may even realize.
For example, did you know that shrimp have fewer calories than any other meats? It's true! Ounce for ounce, shrimp have fewer calories than beef, chicken or pork.
Some healthy eaters recommend going for as few calories as possible, such as by cutting out meat entirely and going vegetarian, but a well-rounded meal plan that doesn't sacrifice flavor can include shrimp, which are both lean in calories and packed with protein for extra energy while exercising!
A common misconception is that calories are automatically bad for us, hence the need for low-calorie diets and phone applications that account for every single calorie we consume, but this isn't the case. Our bodies need calories in order to have enough energy to function, they're just one half of a crucial equation: when we consume fewer calories than we burn every day, we lose weight. Calories can be obtained from all foods, but the type of food makes all the difference. For example, we can't eat candy all day because, while we could burn off the calories through exercise, we would be missing out on several vital nutrients. That's why it's best to consume healthy, natural foods that are still low in calories: like wild-caught Gulf shrimp!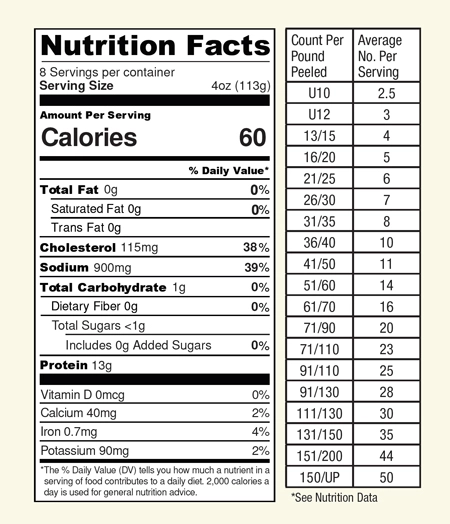 The best part about focusing on shrimp in your meals is that they're so easily incorporated into a variety of healthy recipes! Here are a few of our favorites!
Biloxi's Creamy Shrimp and Turnip Greens
INGREDIENTS:
2 tbsp Slap Ya Mama Seasoning (or any Cajun seasoning)
6 cloves of garlic chopped
1.5 cups onions diced
1/2 cup sundried tomatoes
2 cups chopped turnip greens (center stalk cut out)
1/4 cup chicken stock
1 cup heavy whipping cream
Squeeze of lemon
DIRECTIONS:
In a heavy bottom pan, melt butter on medium heat
Sprinkle shrimp with 1 tbsp of slap ya mama, set aside
Add onions to heated pan, cook for about 5 minutes
Add the turnip greens and sauté until wilted
Add shrimp
Add garlic
Add sun dried tomatoes
Cook all until shrimp are just pink
Add chicken stock and deglaze any bits on your pan
Add heavy whipping cream along with the rest of slap ya mama seasoning
Allow heavy whipping cream to cook and thicken
Serve!
*excellent over toasted French bread, pasta or alone!
Shrimp with Tomatoes, Fennel, Feta and Ouzo
1 tbsp/30 ml salt plus 1/4 tsp
2 tbsp/30 ml white wine vinegar
2 tbsp/30 ml Ouzo
1 clove garlic, minced
Freshly ground black pepper
3 tbsp/45 ml extra virgin olive oil
2 tsp fresh oregano, minced
2 tsp fresh parsley, minced
1/2 head thinly shaved fennel (use a mandoline if you have one)
20 halved grape tomatoes
2 tsp chopped capers, rinsed
2 handfuls arugula
4 oz/115 g feta cheese, crumbled
DIRECTIONS:
Bring a large pot of water to a boil over medium-high heat. Add the 1 tbsp of salt and the shrimp. Boil for 2 minutes or until the shrimp is cooked through. Drain the shrimp and plunge them into a bowl of ice water to stop the cooking. Scoop the shrimp from the water and pat it dry.
Combine the remaining salt, vinegar, ouzo and garlic in a large bowl and whisk until the salt is dissolved. Whisk in the pepper, oil, oregano and parsley.
Combine the shrimp, fennel, tomatoes and capers with the dressing. Toss gently to mix and correct the seasoning with more salt or pepper as desired.
Arrange a handful of arugula onto 2 chilled plates and top with the shrimp and vegetables. Sprinkle the feta over all.
Grilled Shrimp Salad with Sweet Tea Vinaigrette
Serves: 6
Hands-on: 16 minutes
Total: 1 hour, 6 minutes
GRILLED SHRIMP SALAD
INGREDIENTS:
1 cup Pecans, coarsely chopped
1 tablespoon Olive oil
2 each Fresh peaches, large cut into 8 wedges each
1 (6-oz.) bag Mixed baby salad greens
As desired Sweet Tea Vinaigrette
1 cup Crumbled blue cheese
DIRECTIONS:
Preheat oven to 350° Fahrenheit. Bake the pecans in a single layer in a shallow pan 5 to 7 minutes or until lightly toasted and fragrant, stirring halfway through.
Light charcoal grill or preheat gas grill to 350° to 400° (medium-high). Devein shrimp, if desired, and toss with oil. Grill shrimp, covered with grill lid, 2 to 3 minutes on each side or just until shrimp turn pink. Grill peach wedges 1 to 2 minutes on each side or until grill marks appear.
Toss salad greens with Sweet Tea Vinaigrette. Season with salt and pepper to taste, and top with grilled shrimp, grilled peaches, blue cheese, and baked pecans. Serve immediately.
SWEET TEA VINAIGRETTE
Makes: about ¾ cup
Hands-on: 10 minutes
Total: 40 minutes
INGREDIENTS:
1 cup Sweetened tea
2 tablespoons Cider vinegar
1/4 teaspoon Honey
1/4 teaspoon Dijon mustard
1 Pinch Table salt
6 Tablespoons Canola oil
DIRECTIONS:
Bring tea to a boil in a saucepan over medium-low heat; reduce heat to low, and simmer 9 to 10 minutes or until reduced to 1/3 cup. Remove from heat; cool 20 minutes. Whisk in vinegar, honey, mustard, and salt. Whisk in canola oil in a slow, steady stream.
We hope that eating more wild-caught Gulf shrimp in 2023 will help you feel lighter and ready to take on the new year!
Visit our Shop page to order wild-caught Gulf shrimp to be shipped to anywhere in the country today!