Article originally written by Jane Shambra, a local Biloxi writer and Librarian at the Biloxi Public Library and published in BNews Monthly, the monthly newsletter of the City of Biloxi.
Early Art Illustrations
In the early 1700s, Dutchman Le Page Du Pratz compiled a multi-volume illustrated publication in which he recorded information about the plants, animals, insects, and people he found in this area. Even though Monsieur Du Pratz's drawings are limited, the few that he chose to depict are quite interesting. The "Diderot Encyclopedia" from the early 1700s contains unique line drawings of what he saw here.
Art of the explorer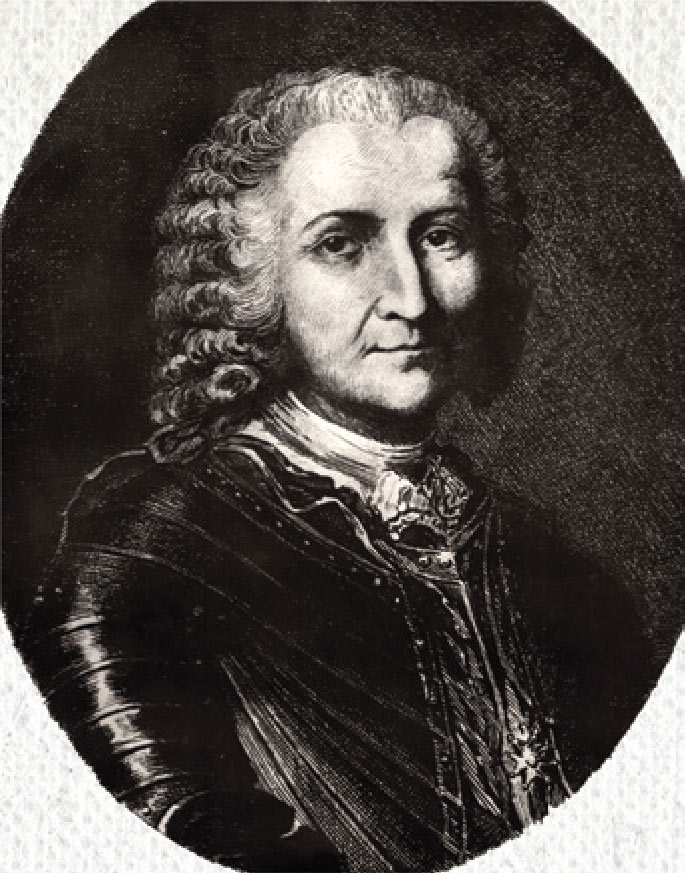 Did you know that Monsieur D'Iberville's brother, Jean-Baptiste Le Moyne, Sieur de Bienville, had artwork drawn on his body from neck to foot? Born in Montreal, Canada in 1680, Bienville often traveled to Mobile, met with tribes in that area, and had many serpentlike inkings etched all over his body.
A recent magazine article describes his choice of snakes as being a connection with the Native American culture on the Coast. None of Bienville's fully-clothed portraits give any hints of his hidden artwork. In those days tattooing practices first began with a stencil tracing of charcoal followed by the actual prickling process, usually requiring a few days of recovery, treated with a diet of boiled corn. In spite of all those painful inkings, Monsieur Bienville died in 1767 at age 87 in Paris, France.
Soldier Art
In 1943, when Keesler Air Force Base was still titled Keesler Field, "Art and the Soldier" was published by the Special Service Department of Keesler Field. This 68-page book includes quite an assortment of talent, including paintings, murals, cartoons, photographs, drawings, and posters. It offers a peek into Keesler's past with visuals about its buildings, people, aviation, posters, events, and even music. "Art and the Soldier" is available for viewing at the Local History and Genealogy Department at the Biloxi Library.
Mosaic Art
In 1999 when Biloxi celebrated its Tricentennial, a special outdoor mosaic evolved at 136 G. E. Ohr Street behind the old 1970's Biloxi Library building and near the present-day 782 Art Gallery. Local artist Elizabeth Veglia was the supervising artist and its construction included a host of volunteers.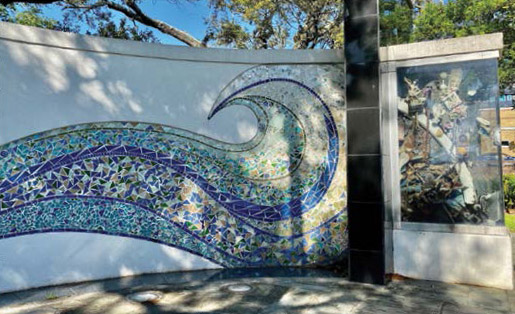 Funded by the Harrison County Board of Supervisors, this outdoor visual tells the story of Biloxi's unique history through the centuries. It survived the wrath of Hurricane Katrina and is the 21st stop of the Historic Downtown Biloxi Walking Tour.
In 2006, Veglia once again created a mosaic art display. In collaboration with Denis Cowart, Elizabeth Veglia planned and designed the Katrina Memorial for the "Extreme Makeover" television series. The 12-foot-high feature signifies the height of Katrina waters at that location. The neighboring glass case includes special mementos. This spot is featured as Stop 1 of the Historic Downtown Biloxi Walking Tour.
Window Art
Many old churches offer a different type of art via stained glass windows. This specialized and delicate glass art can be found in downtown Biloxi's Nativity Cathedral on Howard Avenue. Each colorful window tells a story and illuminates the interior of the structure on a sunny day. A total of 61 windows can be viewed, with the first being installed in 1905. Many have the donors' names inscribed onto the glass.
St. Michael's Church, built back in the 1960s has gone through many hurricanes but its array of marvelous stained glass windows can still be visited today. Near the staircase, inside the Biloxi Visitors Center, folks are awestruck to see two beautiful stained glass windows by the elevator. These works of art were rescued from the old Dantzler House on that same property after Hurricane Katrina.
Art Murals
Within the last few years, another interesting outdoor art feature has been added to downtown Biloxi. Overseen by Biloxi Main Street, the Biloxi Public Art Project has successfully commissioned 21 completed murals, with more on the "drawing board." Basically, these colorful works of art can area bounded by Porter, Bellman, Division, and Hwy. 90. The inaugural project began under the I-110 adjacent to the Biloxi Community Market. A virtual tour of the murals is available on the city's website.

Art Where You Walk
Be on the lookout for at least 10 new art murals embedded in the street's surface in Downtown Biloxi. A new undertaking has commissioned murals to be drawn by local artists on downtown intersections. The Cross Walk Mural project was funded by a Mississippi Main Street grant with matching funds from Heritage Trails Partnership and is expected to be completed soon.
Poster Art
At least twice a year, artists are afforded the opportunity to participate in poster contests such as the Blessing of the Fleet and Biloxi Seafood Festival. This year Biloxi will be celebrating the 93rd annual Blessing of the Fleet celebration. This special event recognizes the hard work and heritage of the shrimping industry. Artists were encouraged to submit entries for this year's Poster/T-shirt contest. The City of Biloxi and The Blessing of the Fleet Committee are among the sponsors of the annual event. After careful review of this year's entries, a winner was announced on Wednesday, May 11 at an unveiling event at St. Michael's Parish Life Center. Check out the calendar section for more information on the unveiling and Biloxi's 93rd annual Blessing of the Fleet and Shrimp Festival which is scheduled for May 27 – 29.
---
Images Courtesy of the City of Biloxi
• Tricentennial Mural Photo - Source: The City of Biloxi
• Early Settlers Drawing - Source: Local History and Genealogy Department / Biloxi Public Library Book Collection (The History of Louisiana by Le Page Du Pratz, 1774)
• Jean-Baptiste Portrait - Source: Local History and Genealogy Department / Biloxi Public Library Image Collection
• The Katrina Wall Photo - Source: The City of Biloxi
• Stained Glass Photo - Source: Local History and Genealogy Department / Biloxi Public Library Image Collection
• Downtown Biloxi Art Murals Photos - Source: The City of Biloxi