This article was originally written by Jane Shambra under the title "Home Sweet Homes: A Small Sample" for BNews Monthly, the monthly newsletter of the City of Biloxi. All images courtesy of the Local History and Genealogy Department / Biloxi Public Library / Harrison County Library System.
Biloxi's First Subdivision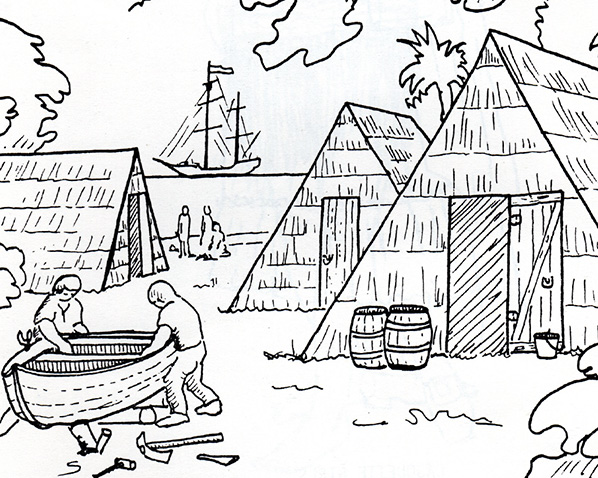 A long time ago, around 1699 when Monsieur d'Iberville and his crew debarked on our shore from his wooden boat with huge sails, he did not have a home, and there were none to choose from. So, the settlers had to build dwellings.
After clearing areas along the shoreline and with the help of Native Americans, homes were built. We believe the first Biloxi "neighborhood" was just west of today's Biloxi Visitors Center.
In December 1720, Jean-Baptist Michel Le Bouteux drew the first known image of Biloxi's first subdivision. Originally, there were about 10 homes occupied mostly by German and Swiss settlers lured over by John Law. In September 1722, a terrible hurricane attacked New Biloxi. The rebuilding process soon followed.
Today, there are no clues or remnants of Biloxi's first neighborhood. If only we could have taken a peek inside to see its furnishings!
Biloxi's history goes far beyond restaurants and places for recreation. There were many famous homes, some still here and repurposed, and many gone because of a series of unfortunate events, such as hurricanes.
The Baldwin Wood Home
One gone-but-not-forgotten home was that of the Albert Baldwin Wood, once located on the northeast corner of Bellman and Hwy. 90 and owned by the Howard family.
Mr. Wood, a renowned engineer who designed the everlasting wooden corkscrew pump for pumping stations, was known for his iconic red wooden lighthouse and his beloved sloop, the Nydia. Sadly, his lighthouse and mansion were destroyed in Camille, but the Nydia was saved. Today, it is inside the Maritime & Seafood Industry Museum.
After Mr. Wood died in 1956, his home was converted into The House of Treasures, where a rare collection of furniture, silver, porcelains, crystal, pottery, and Aubusson Tapestries were available for viewing.
To the north of Mr. Wood's mansion was another structure: his horse stable and workshop. The structure was renovated and in 1975 became the home of the Biloxi Art Association.
In 1969, Hurricane Camille demolished Mr. Wood's wooden lighthouse and home. Today there is an empty lot where Mr. Wood's Victorian mansion and huge carriage house proudly stood.
Downtown Mansions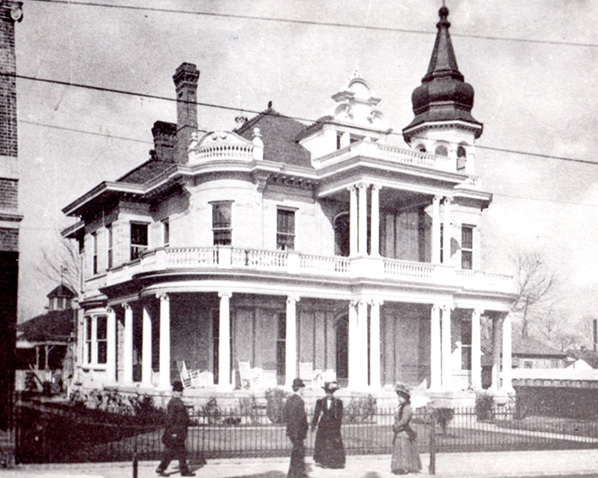 Way before Urban Renewal and before the years of the Saenger Theatre, there were many wonderful mansions located in downtown Biloxi.
The W. K. M. Dukate House was built in 1894 by J. L. Barnes, architect and contractor, and was located on the south side of Howard between Magnolia and Crosesus streets. It was the residence of Mr. Dukate, a successful seafood industry businessman, and his family.

The large Queen Anne home was demolished in 1923, and the five-story, Avalez Hotel (formerly known as the Brady Hotel) occupied that spot. Today, Merit Hospital is on that footprint.

The nearby Laz Lopez House was once situated on the north side of West Howard between Reynoir and Crosesus, next door to our present day Barq's Building. It was built in 1902 by J. F. Barnes & Company and designed by Theodore Brune of New Orleans. It was the home of another successful seafood industry processing family.
According to the 1902 Daily Herald, it was a two-story home, lined with colonial columns along the front and sides and included a parlor, library, dining room, and six bedrooms.
On Jackson Street, the Redding House was built in 1908 for Charles Redding and his family. The home, which still stands today, is one of the finest Colonial Revival houses remaining in Biloxi.
Bomb Shelter House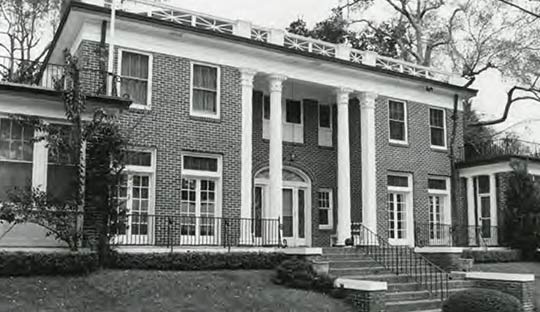 Located near Miramar Park, the Glenn Swetman family home was originally built in 1927. In the 1990s, the City of Biloxi acquired this structure.

For a while both the Symphony and the Ohr Museum occupied this home. But did you know that this home had an atomic bomb shelter? This feature became popular in the 1960s when there were fears that the United States could be threatened with an atomic bomb attack.

Shotgun Houses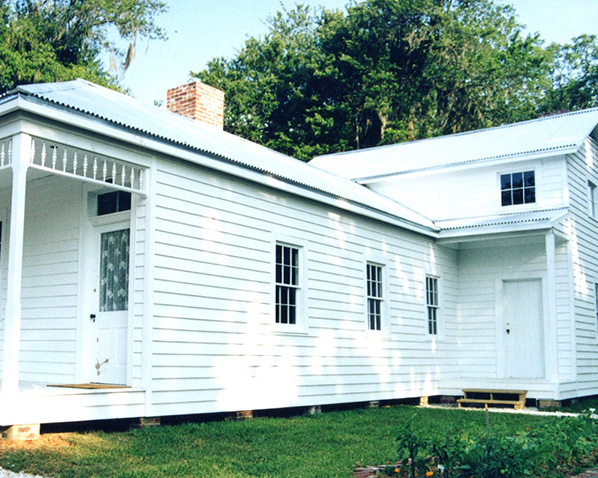 Although the shotgun house type of architecture is prominent in the New Orleans, many Biloxi houses also had this type of homes for families.

The architecture is characterized by narrow building with its rooms straight in a row. Thus, a bullet could travel in a straight line from the front door and out the back door with no infringements.
Examples of popular Biloxi shotgun houses are the Pleasant Reed House and the Henriques-Slay house.
The Pleasant Reed House was built in the 1850s for the African-American Reed family home. This house is one of the few homes that can be proudly identified to be both built and owned by Mr. Reed.
By 1898, the Reed family was identified as one of the largest African American families in Biloxi. Family members contributed to several aspects of the Coast economy: fishing, lumber milling, railroading, tourism, and the supply
of fuel (charcoal). Even though Mr. Reed was not a master carpenter, he constructed a well- built, strong home, and likely built much of its furniture and cupboards as well.
By the 1970s the Reed home had deteriorated to such an extent that it was threatened with demolition. The Gulf Coast Chapter of the Delta Sigma Theta Sorority took ownership and saved the house from destruction.
In 2002, it was relocated to the Ohr- O'Keefe Museum campus, but was sadly destroyed by Hurricane Katrina in 2005. A rebuilt replica of this historic structure was reconstructed and opened in September 2008 as the Pleasant Reed Interpretive Center at the museum.
The Henriques-Slay House, once located at the southeast corner of Reynoir and Water streets, was once the home and medical office for Dr. Adolph D. Henriques. The doctor's international studies lead him to be a published author, pharmacist, and a specialist, as he utilized X-rays in the diagnosis of tuberculosis. He was also an acclaimed professor.
As a pharmacist, he developed a famous 'Big Six Antiseptic' which was sold at the Grand Drug Store in the Barq Building on Howard Avenue.
In 2009, the home was moved to Rue Magnolia. It was repurposed into the Craftmen's Guild of Mississippi, and today the shotgun house serves as the office of Guice and Guice Advertising.
More Homes to Explore
The history of old homes in Biloxi is fascinating. Many of the older structures are featured in books and online resources at the Local History and Genealogy Department / Biloxi Public Library!
Visit our Shop page to order wild-caught Gulf shrimp to be shipped to anywhere in the country today!