This article originally written by Jane Shambra with the title "Bets Placed on Biloxi for Years." Jane is a local Biloxi writer, for BNews Monthly, the monthly newsletter of the City of Biloxi. All images courtesy of the Local History and Genealogy Department / Biloxi Public Library / Harrison County Library System.
Gambling has a history in Mississippi and has been deemed as "Mississippi's Oldest Pastime." Historians have cited stories of early Native Americans enjoying games and gambling such as playing stick ball. The popular sports betting game utilized sticks made of strong wood, such as hickory, and crafted balls of rock, hair, and hide sewn together with wagers made on the outcome.
Monsieur d'Iberville's crews enjoyed gambling games of cards much like the decks of playing cards we see today but with different illustrations.
Biloxi has a significant history of being a benefactor of gambling profits. Long ago, in the late 1800s, the heirs of a legendary Louisiana Lottery millionaire, Charles Howard, bestowed a wealth of benefits to the City of Biloxi through his sons, Frank Turner Howard and Harry Turner Howard, for Biloxi schools, a hospital, and a church.
The Howard family had a summer home on Biloxi's East Beach Road, known today as U.S. 90. In fact, Harry T. Howard served as Mayor of Biloxi from 1888 to 1890 and 1897 to 1899.
In August 1896, in appreciation for the family's generosity, Pass Christian-Point Cadet Road was renamed Howard Avenue.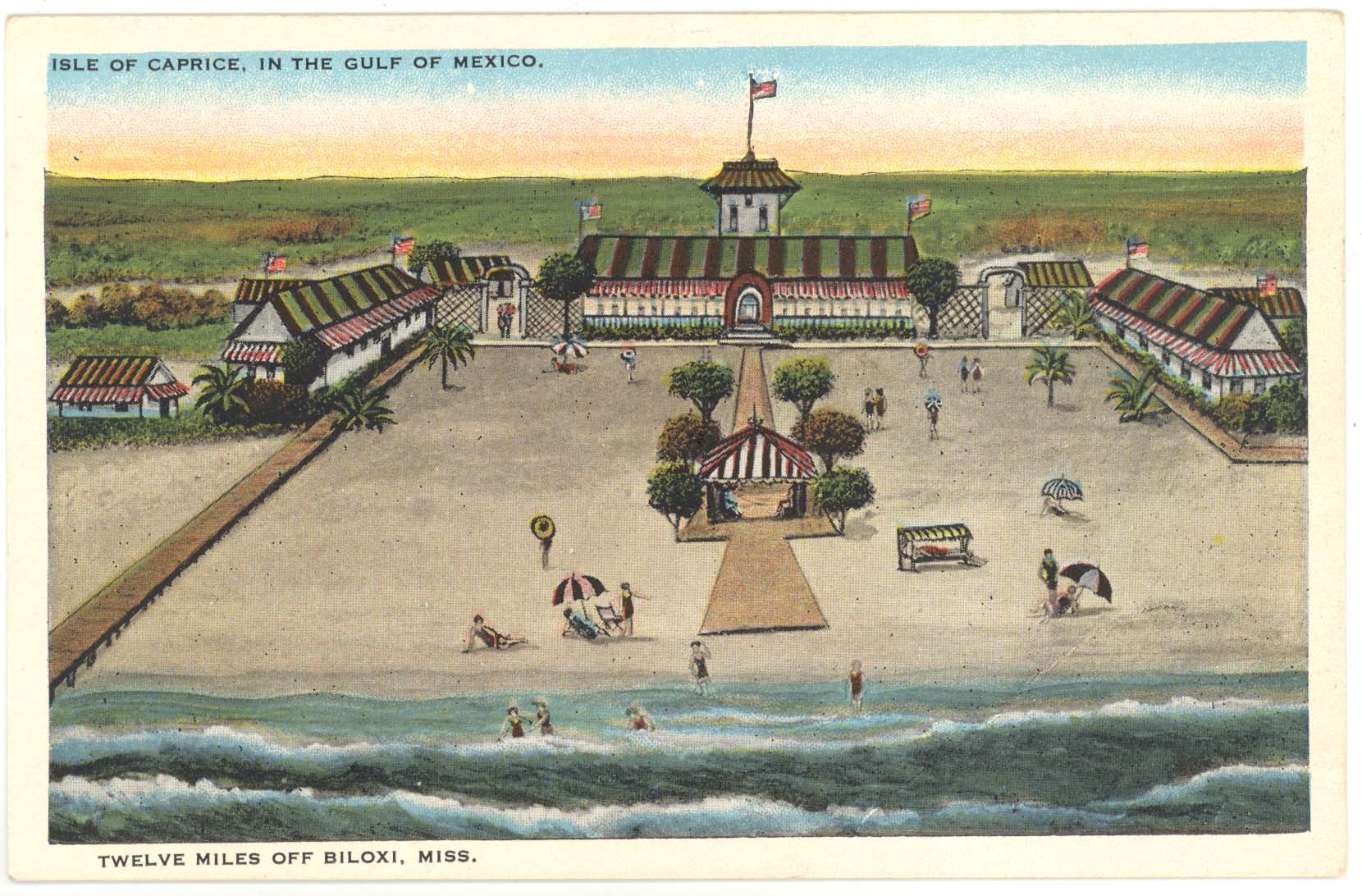 The Mysterious Island That Vanished
One of the most fascinating chapters of Biloxi's gambling history includes the story about the Isle
of Caprice. The island, once called Dog Keys and situated 12 miles offshore between Horn and Ship islands, was once a popular resort, supported by swim meets, family outings, fishing, a dance hall, restaurant, and, of course, the stories of illegal booze and gambling.
The resort, built and operated by Col. J.R. Apperson, Arbeau Caillavet and Walter Henry "Skeet" Hunt, opened May 30, 1926. Access to the island was simply by boat for a round trip fee of 75 cents, and was graced by popular celebrities including Ethel Barrymore, a stage and screen star.
By 1932, the island deteriorated, and as a result of a series of most unfortunate events, "fantasy island" became completely submerged. Years later, an iconic photo of a man standing in a boat drinking clear well water from a rusty pipe is all that remained.
Today, even that iconic pipe has vanished. According to Native American legends, that island has appeared, disappeared and reappeared throughout time. Susan Hunt, Skeet's granddaughter, says she and her sister still pay taxes on the land in case it comes up again.
Biloxi On the Radar
After years of gambling on the island, betting on schooners and horse races, placing wagers while traveling on a riverboat, and playing the slots in downtown, some still frowned upon the pastime and rightly so since it was not exactly legal.
It was common to hear of raids where machines were unexpectedly seized from establishments and chopped to bits.
In the early 1950s Tennessee Senator Estes Kefauver organized a congressional committee to investigate gambling crimes involved in interstate commerce.
Hearings were held in 14 cities throughout the United States, including Biloxi. Those called upon to testify included Biloxi Mayor Hart Chinn, as well as City Commissioner A. J. Creel, Police Chief Earl Wetzel, Sheriff Laz Quave, Keesler Field Commander James F. Powell, and Bank President E. C. Tonsmeire.
The script of those hearings was later published by the U. S. Government Printing Office as an official document. When the hearings ended in 1951 television sets were entering homes, and it became clear that future Senate investigations could be a part of regular television programming.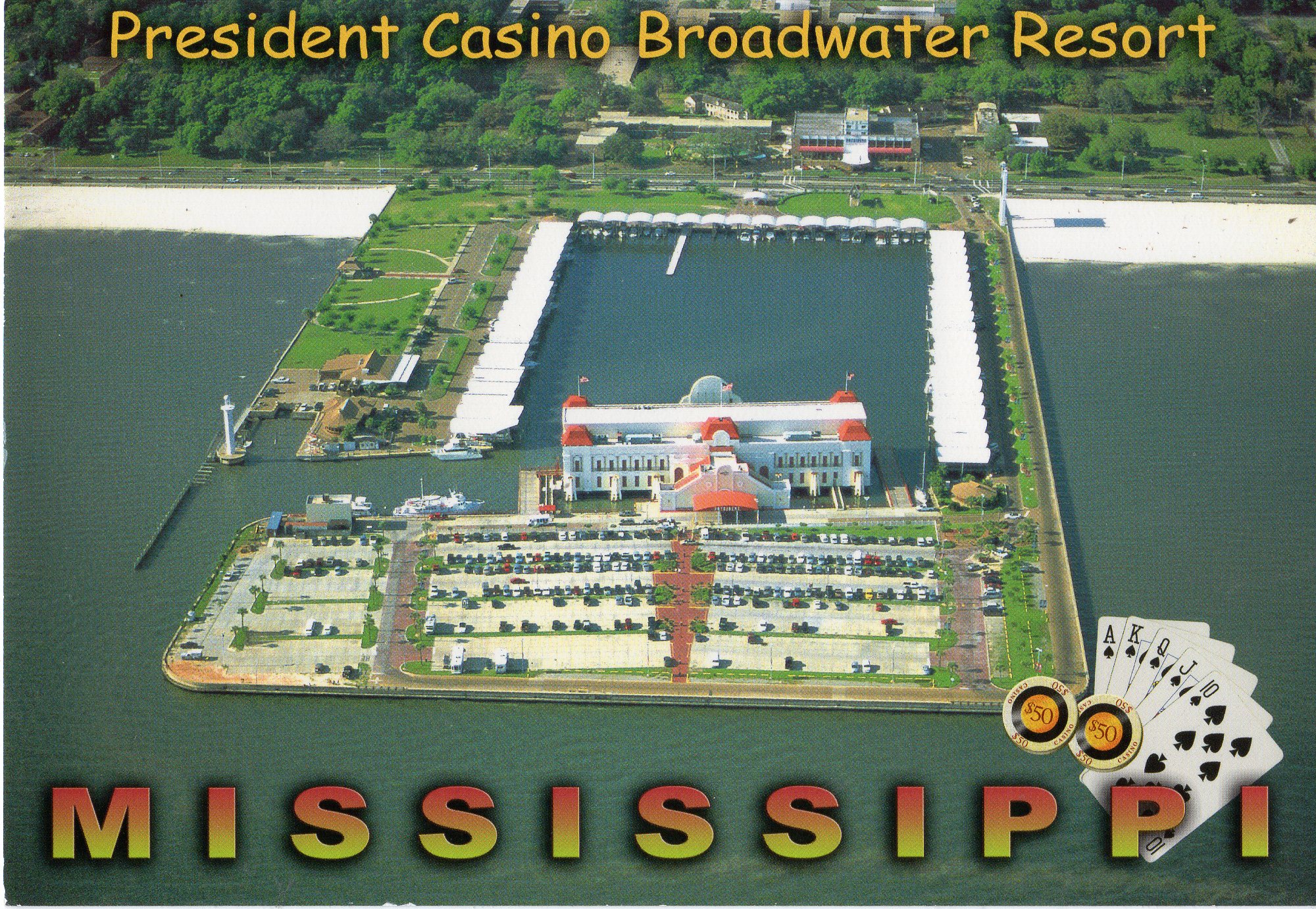 Voting for the Boats
In 1990, the Mississippi State Legislature voted to pass the Mississippi Gaming Control Act establishing the Mississippi Gaming Commission to regulate charitable and casino gaming. On March 10, 1991 Harrison County voters approved legalized dockside gambling.
Then, in August 1992, Biloxi saw the arrival of its first floating casinos. The Isle of Capri Casino was the first casino to welcome its two new gambling riverboats, The Diamond Lady and The Emerald Lady, to the shores. Thousands of locals and tourists waited outside for hours to be part of the city's first legalized embrace of gambling. The two compact riverboats could handle only a few hundred guests each, causing lines that stretched more than a football field.
That scene was repeated two weeks later when the President Casino opened at the legendary Broadwater property in West Biloxi and again two weeks after that when the Biloxi Belle took over the deteriorating Buena Vista hotel site in downtown.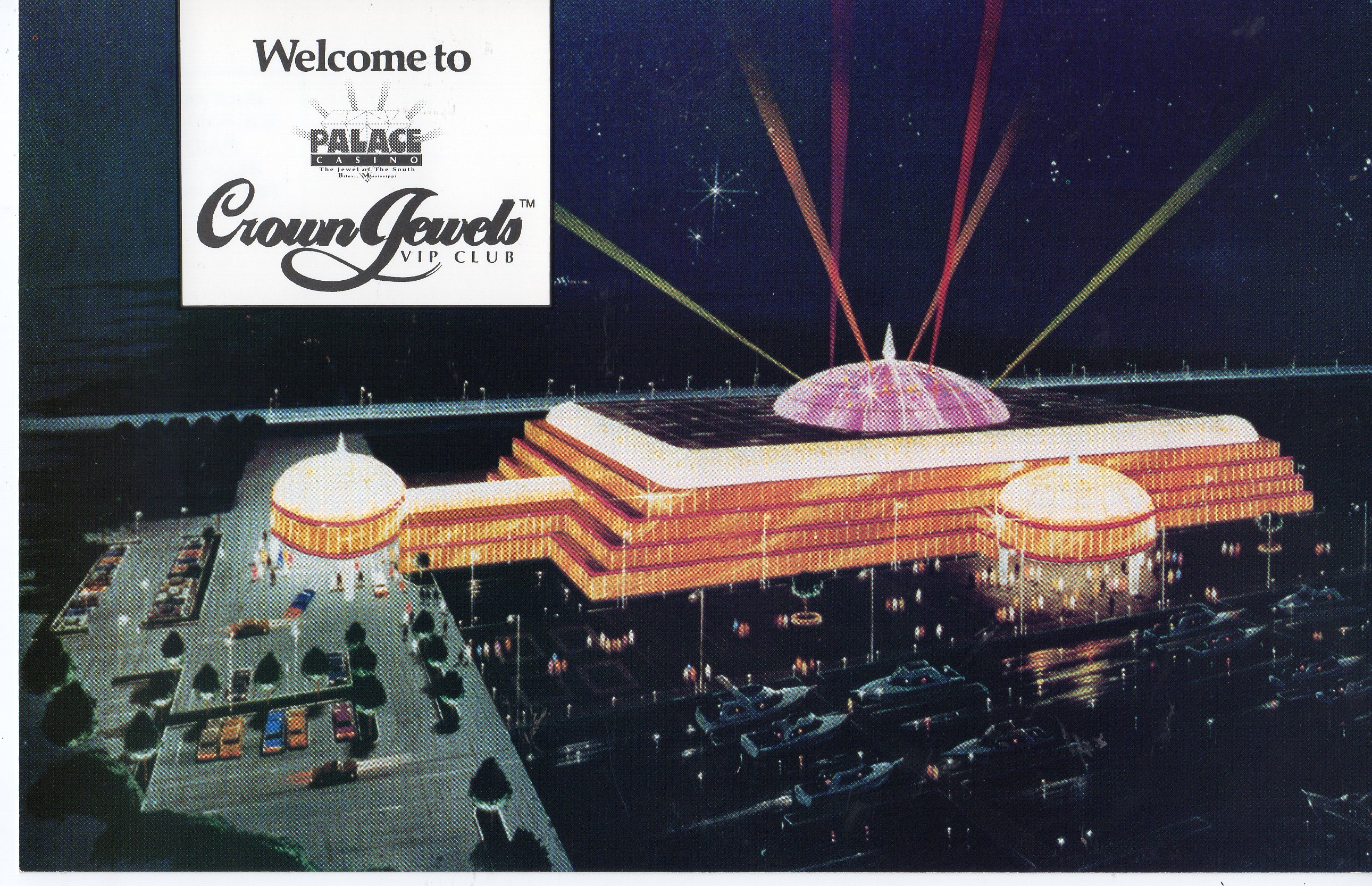 Katrina Creates Recyclables
Traveling against their will, and in spite of precautions to secure these mighty vessels, many of Biloxi's dockside casino barges voyaged away from their original moorings to new locations in August of 2005 when the monster storm, Hurricane Katrina, made an unwelcome visit.
We are told that the barges traveled above utility poles before landing north of U.S. 90, leaving poles and wires still in place, proof of the mysterious power of the storm.
Passersby on U.S. 90 were awestruck to see firsthand just how immense and complicated casino structures actually were. Unprecedented recycling projects of dismantling these colossal entertainment palaces followed, separating contents into respective piles for reuse – plastic, cement, metal, electronics, piping, etc.
There were also loose coins that escaped the "one arm bandits." These finds resulted in a new weightless technology of the next generation of Biloxi casinos essentially eliminating betting with pocket coins/ casino coins. Now, new slot machines issue winning certificates and the clanging of the dropping winning coins had been replaced with a prerecorded rendition of joyous coin music.
Fun Fact: The Elvis Story
Along the corridors of the Hard Rock Casino in Biloxi is a fascinating museum of musical memories including guitars, attire, and vinyl records of famous performers. The facility was scheduled to open just as Katrina knocked on Biloxi's door step.
Sadly, many relics of our musical past unexpectedly exited the building. One item was the famous costume that Elvis Presley wore in the movie G.I. BLUES. An honest Waffle House employee retrieved and returned the khaki clothing, and a specialist restored and presented it back to its home in our casino on Beach Boulevard.
I'll bet Elvis never dreamed that his uniform would swim and survive anything like Katrina!
Dividing the Pie
From that uncertain beginning, dockside gaming – as it is still called – has resurrected Biloxi's tourism and progressed to a billion dollar-a-year industry that has allowed the city to invest tens of millions of dollars in public education and public safety. It has also created thousands of jobs and hotels rooms.
It is quite a change from back in the day when backdoor gambling and bootleg booze established the city as a tourism location. Gaming is enhancing day-to-day city services, expanding amenities for residents, and is, of course, legal.
--------------
Hungry for shrimp? Visit our Shop page to order wild-caught Gulf shrimp to be shipped to you anywhere in the country!